Each July 1, Canadians celebrate Canada Day which commemorates the joining of separate colonies into a single country – Canada.  In 2011, we were doing some work for RIM (Research in Motion, a Canadian Company, who makes Blackberry phones) and were in Toronto for Canada Day celebrations.
There are about as many different ways to define the 'World's Tallest Building' as there are tall building, but the CN Tower in Toronto definitely ranks up there (pun intended).  It continues to be one of the world's tallest buildings overall, and is still the world's tallest tower at 1,815 feet – more than a quarter mile straight up.  It features a restaurant, the 'EdgeWalk' that lets you walk around outside on top (which opened a month after I was there) and a glass floor that lets you look straight down (similar to The Edge in Chicago's Willis Tower).  CN stands for Canadian National, a reference to the national rail company that built the tower.
It's difficult to go almost anywhere in the city and not want to look back at the CN Tower.  It's omnipresent.  It dominates.  And even tho the architecture and construction materials are dated and drab, it's still beautiful and makes a nice addition to most photos.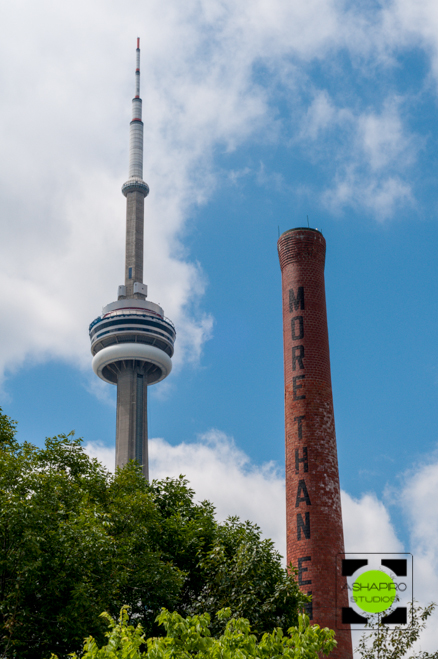 When I think of cities that offer a great public transportation system Toronto doesn't make the list, but they do have a pretty cool bicycle rental program.  Bixi has an extensive network of bike rental stations around the city.  Membership is a nominal fee, paid daily, monthly or annually, and allows free 30-minute rentals anywhere, anytime.  If you're looking to see different parts of the city in a day and want some exercise in the process, Bixi has locations at all the major hubs and then some and is completely affordable at $5 for a day, which allows unlimited 30-minute rentals.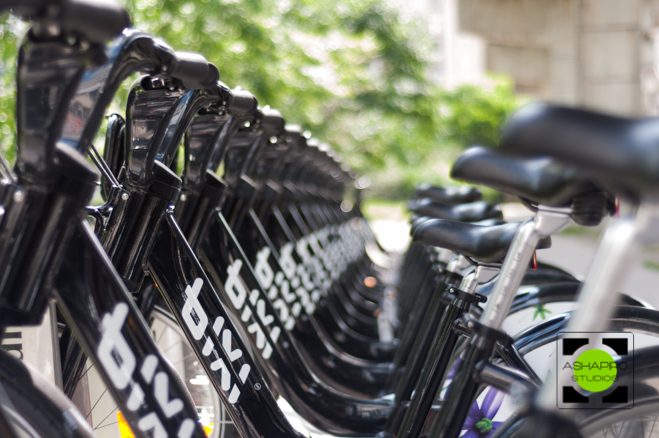 Like almost any other major celebration, Ontario Place in Toronto fires off a great fireworks demonstration to celebrate Canada Day.  Ontario Place also features a small theme park, water park, marina, beach and amphitheater, and on Canada Day it's the place to be.  Live music, celebration, shenanigans and fireworks – sounds just about right to me!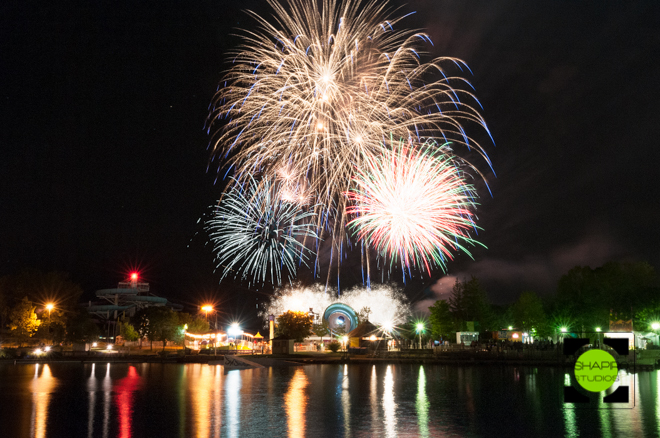 Photographing fireworks isn't really easy, but it's not difficult either.  The biggest trick is getting your framing right.  It's tough to know where the fireworks will launch from or how high they'll go – it's easy to get a sense for height after you shoot a couple shows but not really knowing where the barge (or other launch platform) is can make you change your view in a hurry.  The first trick is to get your camera location selected as quickly as possible, then lock everything down – ISO, Shutter Speed, Aperture, Framing, Focus, etc.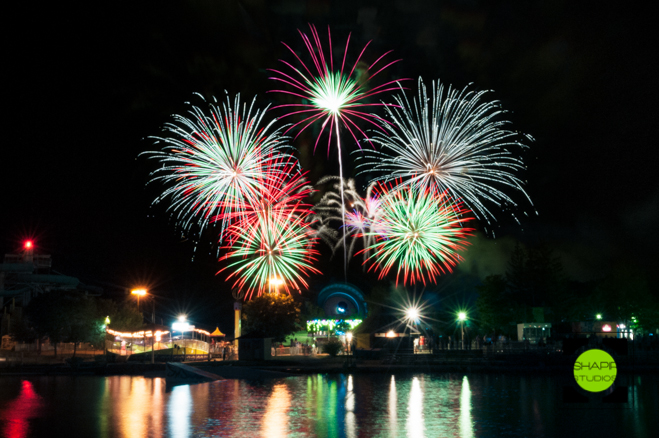 I try to shoot fireworks in the 400-640 ISO neighborhood; I'd go even lower if I could to keep the noise down but I like getting a little glow from the smoke and other ambient lights and, even at 10 second exposures, it's tough to get enough light in.  I'm usually at F/11-14 (to help with keeping all my foreground elements in focus too) and kick into manual focus.  I like to rack all the way out to infinity, then pull back just a smidge (yes, that's the scientific term for 'just a little closer than infinity).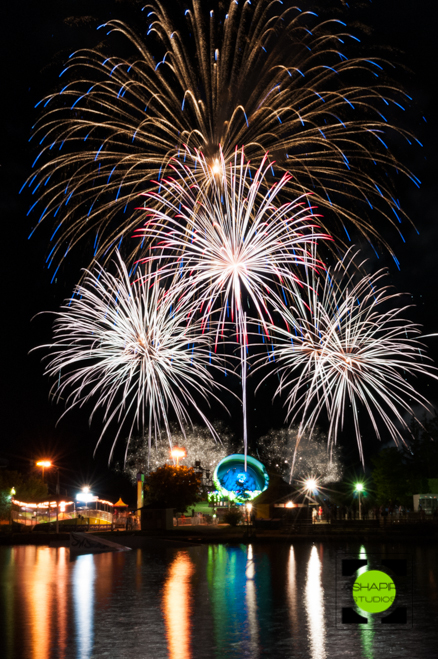 I'll play with shutter speed throughout  – anywhere from 1-30 seconds, depending on how much ambient I want, how much streaking of the fireworks I want, and how predictable the blasts are.  Timing your exposures isn't the easiest – sometimes you can see the glow of the launching blast, and sometimes you can't.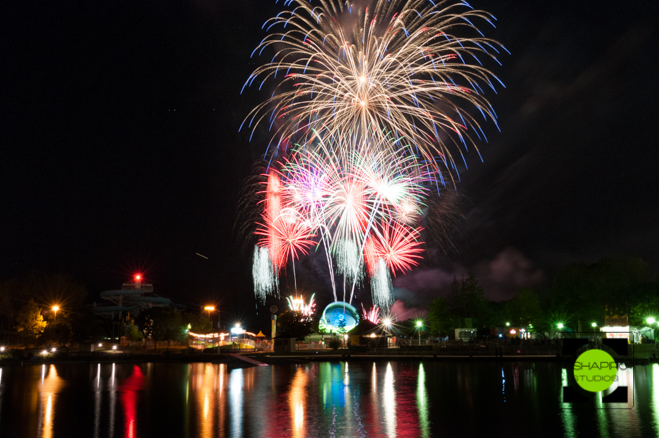 Rarely does the sky fill with light the way I want, and usually if it does it'll be way over exposed – each of these is a composite shot.  I'll pick a base layer to represent the ambient (the ride right in the center of the frame, which looks like the 'launching point' for most of the blasts) then layer on in lighten mode.  Some burning and dodging, some curves adjustments, some sharpening and it's done!
Photographing lighting storms is just like photographing fireworks, only much more unpredictable.  Not only are you dealing with all of the above, but you don't know when it'll start, when it'll finish, which way it's moving (oh yes, it's moving), or where in the sky the next strike will be.  I found myself shooting frame after frame after frame, 10 seconds at a time, and only occasionally caught anything worth keeping.  This was one of my first lightning photos and, as unimpressive as it is, I was thrilled to get it.  If you're on the hunt to shoot lightning, be very patient and be ready to sift through a TON of frames when you're done.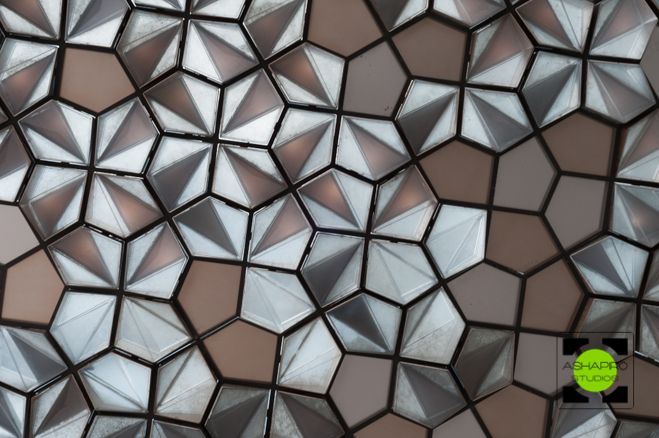 On a little photo walk I was just looking for textures – additions that I could use later for overlays and came across this stained glass overhang.  It was raining that day which gave the panels just a little diffusion.
Toronto is a great town – worth visiting – and especially on Canada Day.  To all my Canadian friends and to all our neighbors to the north – I say Happy Canada Day!