The Allure of the Seas.  The largest cruise ship in the world.  One of the newest in the Royal Caribbean fleet.  Staterooms for over 6,000 passengers and cabins for another 2,000+ officers and crew.  Restaurants, comedy clubs, exclusive shopping, plants hand selected to form 'Central Park,' a helicopter landing pad, a casino whose size would rival those in Las Vegas, and an activity deck that features pools, hot tubs, mini-golf, ping pong tables, zip lining and surfing – this would be my home for 7 nights.
The first glance I had of this mega-ship was while it was docked at Port Everglades in Fort Lauderdale, FL.  Even at the dock, from afar, it was clearly the largest passenger ship I've seen.  To put it in perspective, if it were to float through New York Harbor and you were on the top deck you'd be eye-to-eye with the Statue of Liberty.
One of the most notable features of the ship is the Royal Promenade, an expanse on Deck 5 that features a sports bar, a latin restaurant/night club, Starbucks coffee, duty-free liquor, a 24-hour cafe and a floor large enough to accommodate dozens for aerobics in the morning and dancing to live jazz and DJs in the evenings.  Deck 5 also featured the entrance to the main dining room (which itself spans 3 decks) and this replica 1936 Mercedes Benz 540K.
Tho Deck 15 is the activity deck, it's not the only place to stay active.  A well equipped gym and a running track that rings Deck 5 are also available.  Still, during daylight hours of sea days in the warm Caribbean sun Deck 15 is the place to see and be seen.  Skimpy swimming costumes, live steal drum bands and easy snacks are aplenty.
If you're looking to be entertained, there's a lot more than just music.  Nightly comedy on Deck 4, Karaoke in On Air (along the Royal Promenade) and an Ice Show (yes, an ice show on a sea-battered, rocking cruise ship) are available, along with Broadway-level theater and a Cirque du Soleil-style water show.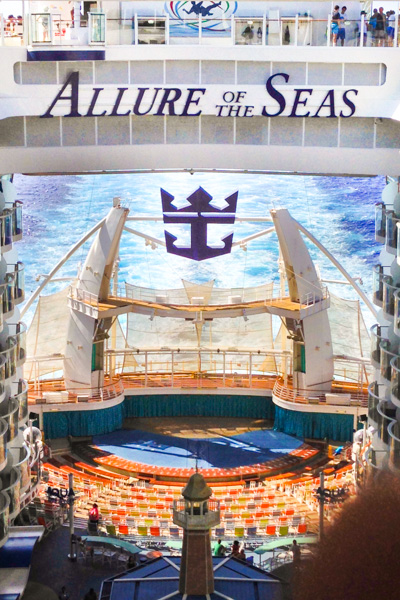 If food and drink are your want, you will not be disappointing.  Every option of dining from grab-and-go to formal dining and lounges and bars on many decks can feed your body and soul, and help wash away your inhibitions.
I guess there are 2 ways to think of cruising – large ship and small ship.  Tho this was my first multi-night cruise, I think I've gotten a good sense of how I might like to cruise in the future.  A ship like the Allure of the Seas is overwhelming at first.  With so much to see and do, your senses are assaulted with options.  Evening #2 made exploration more attainable; I wanted to see what the ship had to offer.  By the end of my seven nights I was glad I had so much to choose from, even feeling like I wanted more time just to see everything on board.  A smaller ship (like the one that took me on a 1-night repositioning cruise) offers a more intimate experience, and less activity.  If rest and relaxation are your only goal, a smaller ship might be the way to go.  If you'd like to be more active, or if you've got more than 1 sea day where you might want options to keep busy, the larger ship is the way to go.  The vastness of the ship also allowed me to slip into obscurity in between segments of being at the forefront of the public eye, which I appreciated.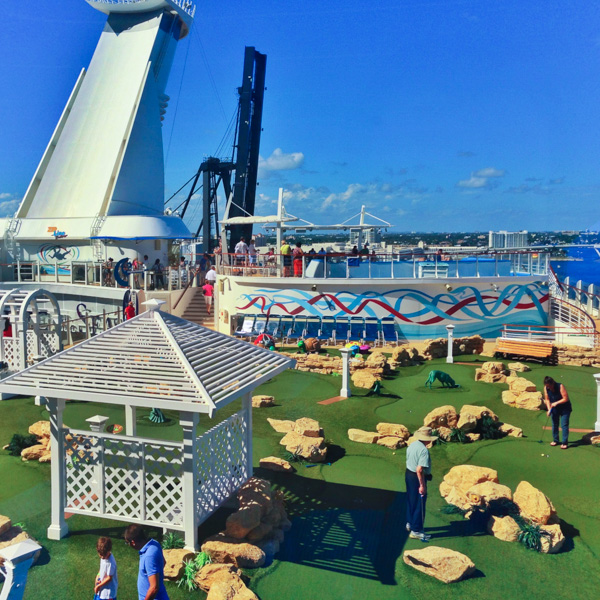 Royal Caribbean, operator of the Allure of the Seas, touts it as their "newest, most revolutionary ship yet."  With 7 neighborhoods and 25 dining options, the ship itself is a being in its own right, but lets not forget the vast ocean that surrounds it.  Being on the Royal Promenade or in Central Park, or in the casino or any of the dining outlets tried to take you away from the water with no windows, but it can't be forgotten.  The floor heaves from side to side and curtains sway, to say nothing of the nautical themes throughout.  All of the 'You Are Here' signs around the ship directing you to your destination are directionally correct, with a depiction of the ship in the correct orientation for where you're standing.  And of course, you're never more than a few steps from looking out on the blue waters of the sea.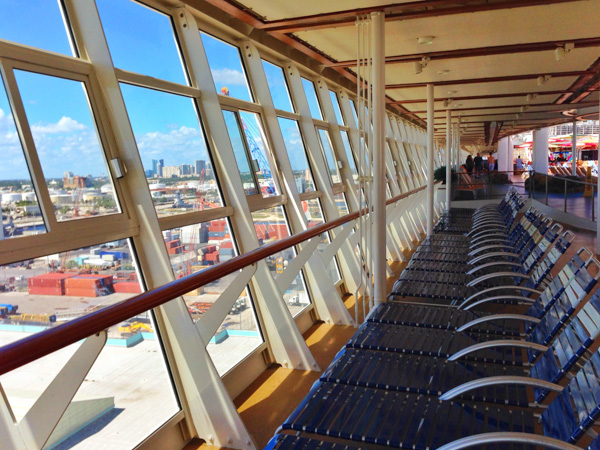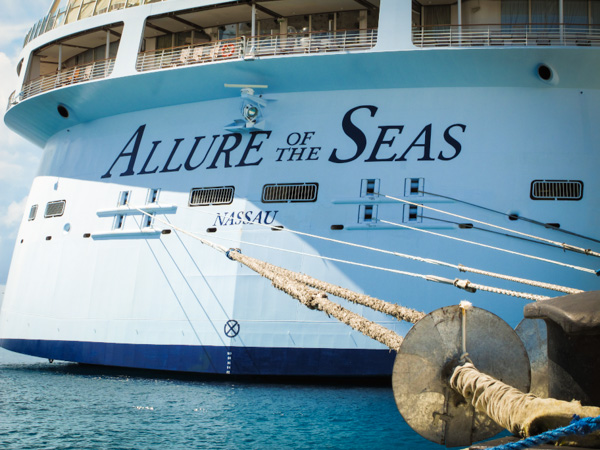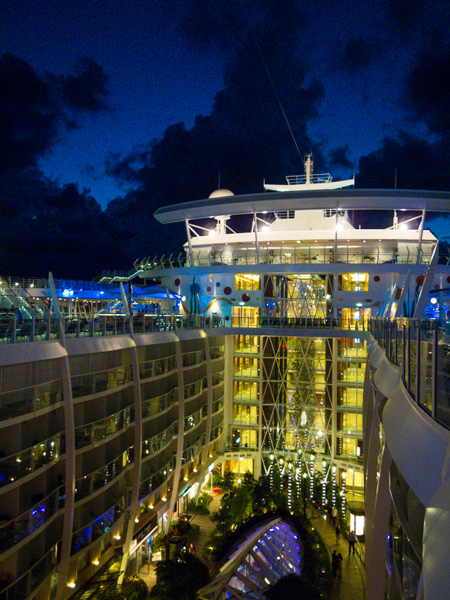 Maybe someday I'll get to experience the Allure of the Seas as a fare-paying passenger.  Until then, enjoy some time on the cruise ship of your choice.  And keep making great photos!