In about a week I'll be out on a sail boat with a couple guys, cruising from Seattle's Shilshole Marina, up and around the San Juan Islands and back, and today was a perfect day to test some gear.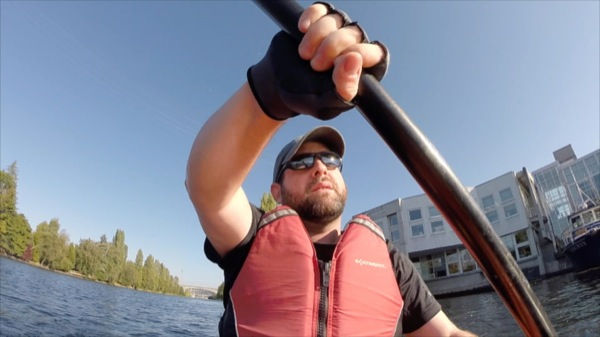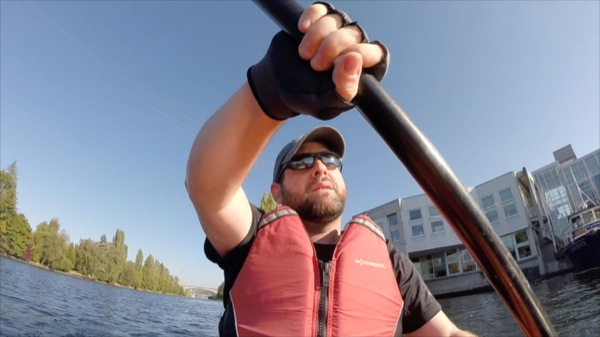 I'll have 6 cameras with me for the shoot on the sail boat, but I've been having some challenges with a GoPro 3+ and I wanted to get some real world testing.  My device seems to be one of the few that has a severe zebra problem.  No, not the African animal – Zebra is a term used in video talking about stripes that appear in video when a picture is over-exposed.  Usually, you want to see the zebra lines in your viewfinder (so you know if you're overexposing) but you NEVER want to see them in the final output image.  OK OK, never say never, but I can't imagine ever wanting them for a film I'm creating.
In any case, I have a GoPro HD Hero3+ that was one of the lucky ones.  I've tried a firmware update, at the companies recommendation, and wanted to get it out into a real world test.
Yup, there they are.  See 'em up in the sky?  Grrr…  OK, well, let's look at some other aspects.  I shot the entire day in 1080p at 60fps and used FCPX to slow the footage down to 23.98, then converted to Optical Flow to get very smooth, velvety motion.  Next-up – Underwater!  Let's make sure that housing is all sealed up, shall we?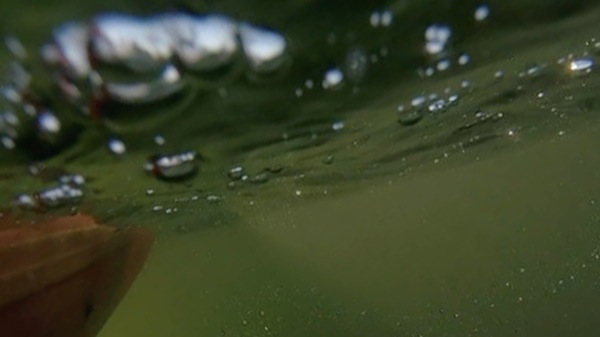 OK!  That seems to be good… mounts are good… floating back-door is good…  batteries?  Hello?  Batteries?  Another reason I'm not to impressed with this GoPro – and it may be my unit and not model-wide… the battery is terrible.  Not iPhone terrible, mind you, but I'd love to get a little more juice out of it.  Don't even think about using WiFi if you want to get more than 30 minutes of use out of this bad boy – Not. Gonna. Happen.  Today the battery ran out less than an hour into the trip. It was a really nice day, tho…
The sun was out, the sky was blue, the water was busy…  let's see that final video!
On a late summer day, I kayaked from the Northwest Outdoor Center to the Ballard Bridge and back, passing Fremont and the Fremont Bridge and Seattle Pacific University. from AShapiro Studios on Vimeo.
But wait – there's more!
Instagram announced their new app today, "Hyperlapse."  Hyperlapse seems to be the Photography 'it' word these days, and Instagram is jumping on the bandwagon.  Hyperlapse is designed as an easy way to take a video then convert that video to a timelapse, then easily share that video to Facebook or Instagram.  There's some secret sauce built into the app; it features stabilization that's really quite nice.  I really like how clean the app is, and how easy it is to use.  Once the app is open, you are only left with 1 choice – to start recording video.  Once started, you only have the option to stop.  Once you're done shooting, all in one take mind you, you then are given the choice of how fast playback should be, then how to share the video.  In future versions, tho, I'd love to see the ability to pull from my video library.  Today, I shot about a 3-minute video of the Fremont Bridge in Seattle closing after a ship passed through and, during processing, the app crashed.  Nothing to be done.  The video is gone forever.  Being able to shoot in a more stable platform, like the camera app, then import would have saved the heartache of loosing that footage.  I guess that's what I get for trying to shoot really cool footage on a new app on a mobile phone while floating on a 17′ kayak – OK, lesson learned.  All told, I can see many use cases for Hyperlapse and I look forward to digging in again.
Oh, and here's a Hyperlapse that did work out.
Instagram Hyperlapse Test from AShapiro Studios on Vimeo.