Today's real estate market in Seattle is brisk.  There's very little inventory available; houses don't stay on the market very long.  I've been working with Cynthia and Mack – a husband and wife team with Nice Seattle Homes – to photograph their real estate listings, and today's was a treat.  Seattle may not have homes that date back to the 15th century, but we've seen our share of architectural styles come and go and this Craftsman-style home has true-to-neighborhood styles and lots of light.
While that's great for living, lots of natural light flooding a home creates a certain challenge for photography.  Mixed light sources, mixed color temperatures, bright exteriors seen through the windows of relatively dark interiors… How do we make it look it's best?  Let's look at 1 example – The Kitchen.
Here's the first original capture from the kitchen, exposed for the outside.  Aside from being really under-exposed inside, we also have converging parallels.
In this second image, we still have the converging parallels and we're way overexposed for outside – totally blown out whites – but we have well-exposed interiors.
In this final image, we've taken the 2 originals, plus a few other exposures, blended them together using a combination of Adobe Lightroom (5) and Photoshop (CC), along with some color temperature, exposure and contrast corrections.  We've also used some perspective shifting to make the parallel lines straight.
The home also features a bedroom on the 1st floor and a vaulted ceiling upstairs that doubles as a bedroom.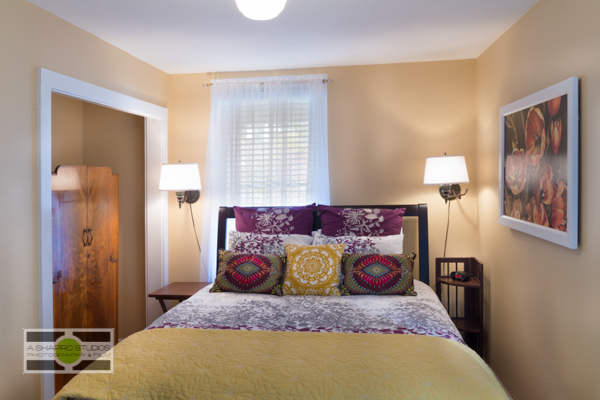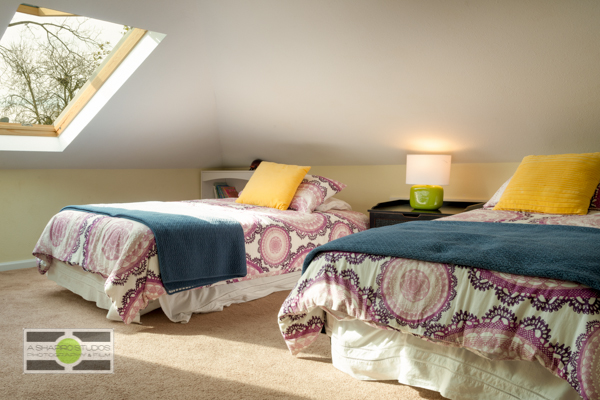 Currently a study, the main floor also features a formal dining room if the new owners would like.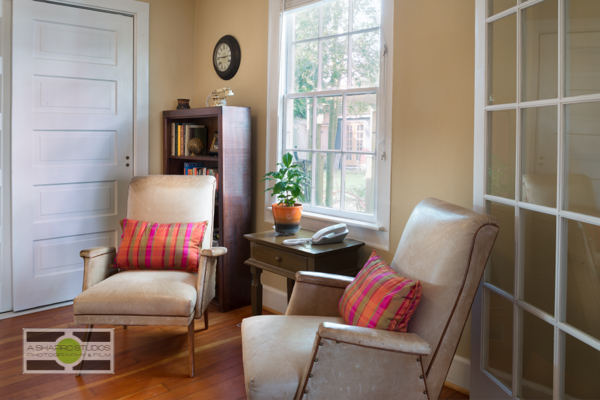 The living room is well laid out as well, and the bathroom features a claw-foot tub.
A dining nook just off the kitchen with huge windows and overhead skylights rounds out meal options.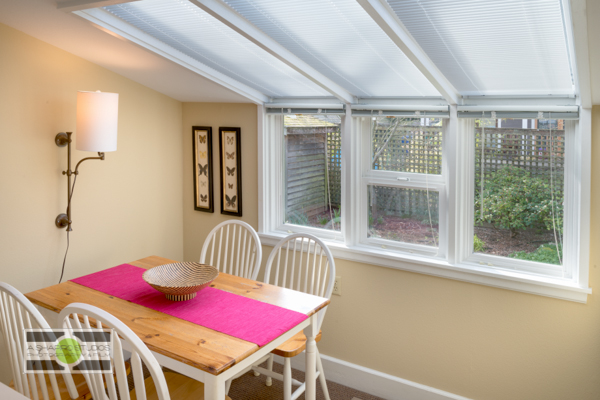 A lovely backyard gives the homeowner with a green thumb just enough room to have their way without feeling overwhelmed.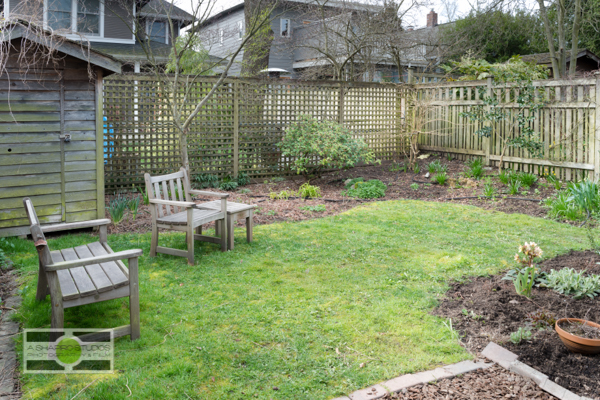 Like many others of the era, the scale is smaller than modern-built homes.  Small closets, small bedrooms, small dining rooms – but it's quaint.  It has character.  It has charm – all things rarely seen in today's homes.  If you'd like to learn more about this Nice Seattle Home, contact Cynthia and/or Mack today.  Don't wait – it'll go quick!