I get lots of questions about my photography.
I like answering them.
The #1 place people look at my photos are on their phones (websites, social media, etc), and the #1 tool I use to show people my photos (in person) is my phone.  The #1 question I get about the photos is "Did you take that on your phone?"  … No.
But, what did I use to take that photo?
Every shoot is a little different and takes a different set of tools, but this run will have 9 events that are all about the same.  The challenge with them, tho, is that these 9 events will each be full of a wide range of shooting situations (my recent event shoot for Disaronno was helpful as a warm-up/refresher).  Combine that with the travel from city-to-city and there are 2 things I really need to pay attention to:
Be Prepared.  Tho I've already sourced supply stores in each city (as I mentioned in part 2 of this series), I won't have a lot of time to run to a store so I need to have as much with me as I think I'll need, and back-ups for those things, and back-ups for the back-ups.
Be Light.  If #1 is about bringing as much as possible, this one is about leaving as much at home as possible.  Airports, airplanes, parking lots full of people, on-field during very large soccer matches, up in the suites in big stadiums…  I need to be mobile.  I'm a big Alton Brown fan (the TV chef) who regularly talks about the importance of not having "unitaskers" in the kitchen – items that only perform 1 task.  Packing for a trip like this is much the same, as much as possible.
So, what do I take and how do I get it there?
How I transport everything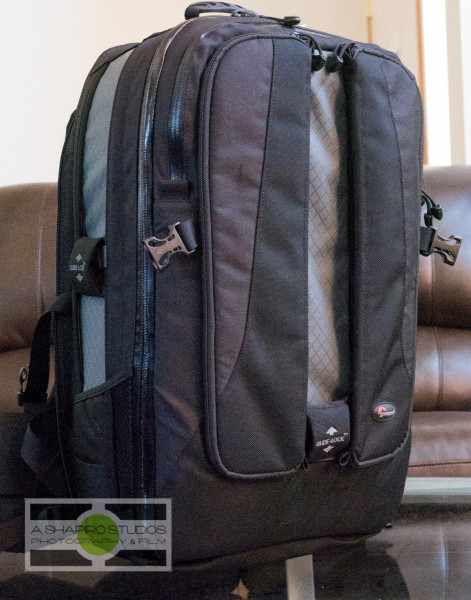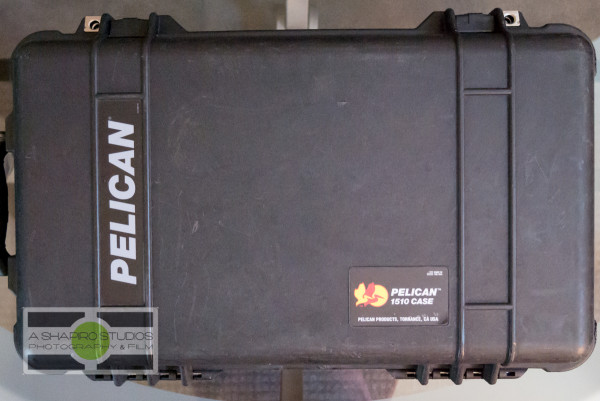 My team and I are tasked with capturing both stills and video onsite and everything pretty much fits into 2 kits.
The Still Photography kit travels in a Lowepro Vertex 300 backpack-style bag and also carries all the computer/storage gear.  The Video kit travels in a Pelican 1514 (a Pelican 1510 that's been outfitted with foam dividers).  Let's start by looking at the still kit.
Still Photography Equipment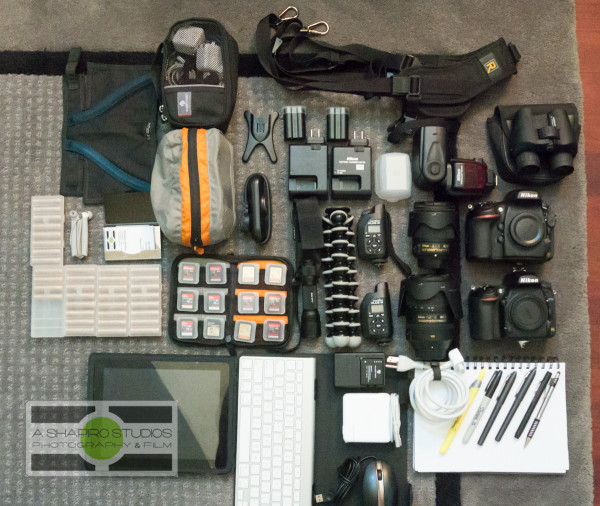 The core of the still photo kit are the 2 dSLR camera bodies – A Nikon D800 and a Nikon D750.  The D800 will get mounted with a Nikkor 28mm f/1.8 lens and the D750 will get a Nikkor 28-300mm zoom lens.  The D750 will do most of the work, especially once in the stadium.  Also mounted to the D750 will be a Nikon SB-910 speedlight that will get used pre-game when shooting into the sun and after halftime once in the suite.  I'll have a couple PocketWizard Plus III triggers with me in case I want to mount a flash or camera somewhere fun and trigger it remotely.  For that, you can also see a Joby Gorillapod SLR-Zoom and a shoe-adaptor for the SB-910.  In case I need to shape the light coming out of the strobe a little more, I also carry a Rogue FlashBender. Both cameras have dual card slots; the D800 takes 1 SD and 1 CF card (not shown) – the D750 takes dual SD cards.  I use Sandisk Extreme Plus 80MB/s 16GB SD cards for everything – both still and video; I'll have 16 of them with me.  I carry the cameras onsite with a BlackRapid RSD-1BB Dual Camera Strap.
Nikon has started using the same battery in many of their cameras; the EN-EL15 battery.  Both the D800 and D750 take this battery, and I carry a spare for each camera (for a total of 4 batteries for the Nikons).  This will have no problem getting me through the day for cameras, but for between matches I'll also travel with 2 Nikon MH-25 battery chargers for those batteries.  The SB-910 and PocketWizards (along with the keyboard that I'll get to in a moment) all take AA batteries – I'll travel with 40 spare AA's.  I've yet to find a hotel room that has enough wall plugs; I also travel with a Monster Cable Outlets To Go power strip that gives me 3 plugs.  For computing/processing/editing, I travel with an Apple MacBook Pro 13″ (that's several years old and needs an upgrade – not pictured).  It's easier to use sitting on a table/desk a little further away from me, so I also bring along an Apple Wireless Keyboard (clipped into an Incase Origami Workstation – which also works with the first-generation iPad, shown) and a USB mouse, and of course a power adapter.  I also carry a notepad and a couple pens/pencils etc in case I get the urge to write like it's 1915 instead of the modern day.  It can get kinda dark in the stadiums, so I also bring along a Fenix TK09 flashlight.  The binoculars, REI 8-17mm zoom, are good for spotting player names or people in the stands wearing shirts or scarves they got in the fan village.
Earbud headphones are a must as well as a fist full of business cards, plus my 2 accessory pouches.  Also not shown are a pair of Bose noise cancelling headphones for the airplane.  You can also see a charger for the Panasonic GX-7 battery; I used the GX-7 to take these photos (so it's not shown either).  Yeah, I'm also taking sunglasses and sunscreen with me, but those aren't shown either.  Also not pictured are an old iPhone 5 that I use exclusively for listening to music and podcasts, and the 2 Lacie Rugged 1TB hard drives that I'll talk more about in Part 5.
Accessory Pouches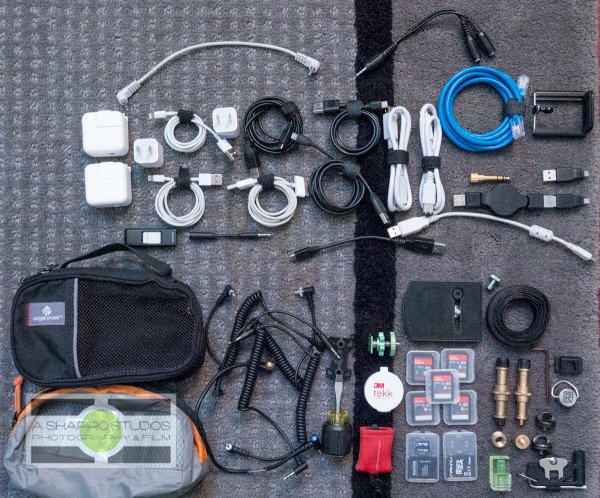 Everything on the bottom of this image goes in the grey/orange pouch – the one I use for camera-specific stuff.  Included are cables for the PocketWizards, small flat head and phillips head screwdrivers (the phillips head isn't shown), a hot shoe-to-1/4-20 adapter, ear plugs (mostly used at music venues but they're small enough to travel with me everywhere), a small lens cleaning cloth, a tripod plate (with spare mounting screw), some miscellaneous hardware and – yes – more SD cards (and Micro-SD used for the GoPro, below).
Everything in the top part of this photo goes in the black pouch – the one I use for charging and goes in my messenger bag every day.  This includes 2 12w USB wall chargers and 2 5w USB wall chargers, along with 2 Lightning and 1 Dock cables, plus an army of both mini- and micro-USB cables, an 1/8″-to-1/4″ audio adapter, a headphone splitter, a FireWire 800 and a FireWire 400 cable, a short audio patch cable (used mostly in rental cars) and an 8GB USB thumb drive – you never know when you need to give or get a file.  There's also a clamp for an iPhone (in case I want to mount it to the GorillaPod).  And – even tho we live in a pretty advanced society – I still carry a CAT-5 cable in case I'm in a hotel room or office space that I need to plug in for internet (live in the now, man).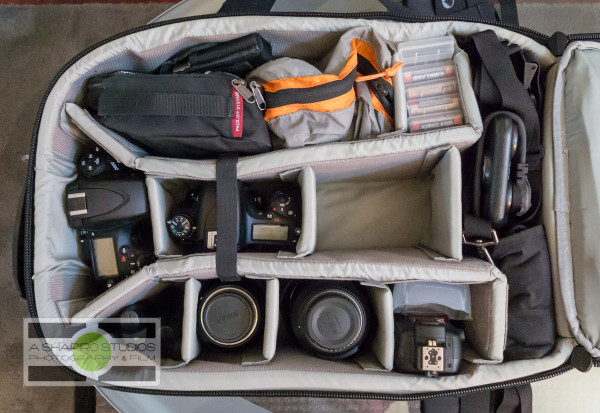 Everything packs up really nicely into the Lowepro bag.
Video Equipment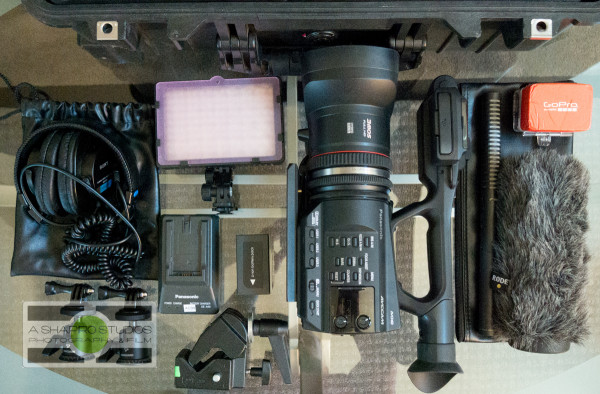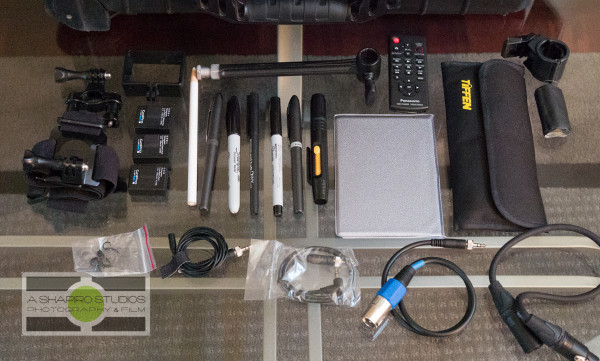 After the still kit, the video kit is a little straight forward.
The core is a Panasonic AC90.  It uses the same cards as the Nikon cameras – I also carry a spare battery and charger.  Audio is captured using either a Rode NTG2 (with a dead cat) or, if I'm interviewing someone, a Sennheiser EW112P wireless lav kit ( packs not shown).  Monitoring happens using Sony MDR7506 headphones.  I also travel with a GoPro and an assortment of accessories (like tripod mounts, bar mount and head strap plus a floaty backdoor – just in case).  Rounding out video is a super clamp, extension arm, more pens and pencils, and a couple lights – one is the Fotodiox LED panel (which I love because it's both dimmable and has adjustable color) and Fancierstudio LED panel that's 'dumb' but throws a decent amount of light.  Also not shown are a monopod with video head (that comes in really useful on longer days) and a Gerber Multitool (that goes in checked luggage because it has a knife).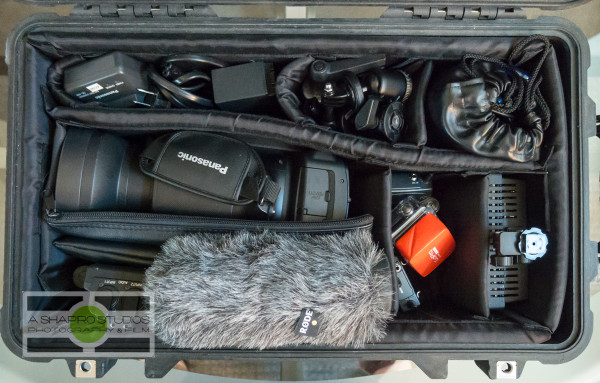 In Part 1 I got the call, in Part 2 I planned the trip and now the gear is ready to go!  Monday morning at 5am my flight leaves for Houston for the first 2 events.  In Part 4 I'll have some photos to show you!